Swadling 7520 7529 MF Version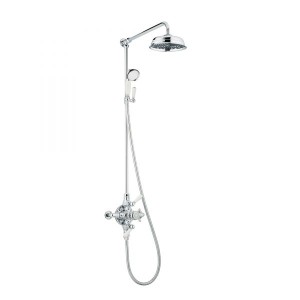 Brand:
Swadling
Product Code:
Swadling 7520 7529 MF Version
Availability:
5 -7 Days
Price: £1,770.00
Ex Tax: £1,475.00
INVINCIBLE – 7520 – 7529MF
Double Exposed Shower Mixer with Rigid Riser, Deluge and Hand Shower
The Double Exposed Shower Mixer exposes the nuts and bolts of the engine, blending raw mechanical shape with elegant period detailing. A traditional Hand Shower, adjustable Rigid Riser Kit with Deluge Projection Arm extends the style.
Despite a traditional appearance, the Invincible exposed is a highly efficient Thermostatic Shower Valve, performing superbly with most plumbing systems on low or high pressures. As a long standing Swadling Brassware collection, Invincible has a tried and tested quality and a durability which lives up to its name.
The Hand Shower has a Ceramic handle and a flexible slider for manoeuvring and at a larger diameter of 190mm, the Deluge delivers a more than ample shower. There is also a Multi-function Hand Showeravailable.
The Double Exposed Shower Mixer has one thermostatic control dial for temperature regulation and two flow control levers which operate the Hand Shower and the Deluge.
White or Black Ceramic Disc printed with <Hot Cold> and Swadling Branding
Ceramic flow control levers and Slider Handle
Hand Shower with Ceramic Handle
190mm Deluge with easy-clean nozzles
Works well on low and high pressures up to 5 bar
Suitable for Unvented, Gravity, Pumped, Combi systems
Made of Brass in a choice of finishes
100% recyclable
Tested in partnership with NSF
TMV2 and WRAS approved
Data Sheets are available on request, email helpline@swadlingbrassware.co.uk
7520 – 7529MF
Invincible Double Exposed Shower Mixer, Rigid Riser Kit, Deluge, Shower Hose and Hand Shower
Write a review
Your Name:
Your Review:
Note: HTML is not translated!
Rating:
Bad
Good
Enter the code in the box below: